Nyan Cat Game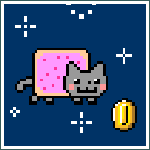 This game is no longer available on the Marketplace.
The FREE Nyan Cat Game for Windows Phone 7 is finally here. Play as the NYAN CAT and collect as many coins and fruits as you can to beat the online high score!!!
Use the collected coins to buy upgrades to get a better high score.
Features for Nyan Cats!!!
over 40 different skins for the Nyan Cat
nyan nyan
Coins
Upgrades
Zombie Cat loves brainzzz
nyan nyan nyan
Fruits
8 Cats with unique abilities
Evil Cats !!
nyan nyan nyan
Extra Lifes
Online High Score
Endless Gameplay
even more nyan nyan nyan nyan nyan
Update v1.2.0
Changes
Fortune cat gaines two extra coins
Astronaut cat gaines three extra coins
Gameplay slightly modified
Bugfixes
Online score crash fixed
Wall glitch fixed
Cat will not be stuck on the wall anymore