Climbing Mate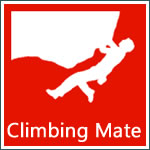 Climbing Mate is a simple tool used to help rock climbers understand the different grading systems.
Currently the app converts between 9 different climbing grading systems and 3 different bouldering systems.
Climbing Mate has also step by step instructions for the 13 most important knots.
Climbing Mate has a Facebook integration to post climbing or bouldering grades on your wall.
Screenshots Windows Phone