Herschnoid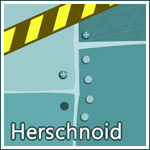 Herschnoid is a classic brick breaker game with cute comic style graphics, packed with tonnes of new features.
Try to master all three level boxes with 16 levels each.
Each level box has an unique theme.
To make life easier collect powerups and weapons. There are more than 15 different kinds but be careful, there are both ups and downs!
Control the player with touch control or the accelerometer!

Current version (1.3) is available for the Windows Phone in english and german.
Review of bestwp7games.com